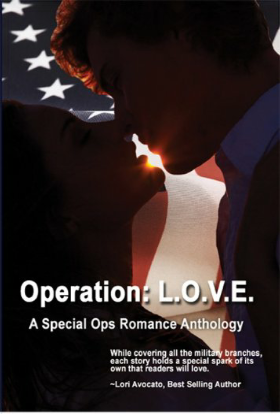 Commercial Cover
OPERATION: L.O.V.E.
"B&B Bivouac"
ISBN: 978-0-9823615-0-4
Available at Amazon.com
Military Cover
OPERATION: L.O.V.E.
"B&B Bivouac"
ISBN: 978-0-9823615-8-0
Available at Amazon.com
OPERATION: L.O.V.E.
"B&B Bivouac"
Pink is just NOT a color normally associated with Special Ops warriors. So when AF Captain David Grantham found himself emergency bivouacked in a frilly pink room at The Romantic Rooster B&B - An Inn for Lovers - during his SERE training, his first thought was 'Dear God, please don't let the guys find out. SERE I can survive. But 'THIS?' Of course, he wasn't about to change billet and give up seeing the inn's beautiful owner, Susan Collins, every day. A pink boudoir he could live with but losing Susan . . . that he would never survive. A B&B BIVOUAC is worth the adventure.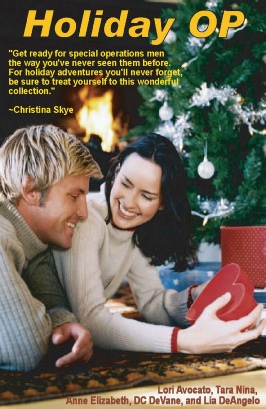 HOLIDAY OP
THE STOCKING
ISBN: 978-0-9842499-2-3
Available at Amazon.com
FOR YOUR HEART ONLY DECODING LOVE
ISBN: 978-0-9823615-9-7
Available at Amazon.com
HOLIDAY OP
"The Stocking:
A Proposal Via Inflatable Raft"
Marcy Grayson had been in love with Paul Callahan for years. She'd dreamed of a proposal, a ring, and a happily-ever-after since the day she first met him. The winter holidays always brought out the romantic in her, and in him, but how could she possibly have guessed that love—and a 'Proposal Paul Style'—would involve a dog, a rubber raft, and the Army Rangers.
FOR YOUR HEART ONLY
"Decoding Love"

A coded message has been intercepted and handed off to NSA cryptologist Belle Cleveland, codename Pathfinder. But it's more complicated than previously imagined, and renowned expert Avalon joins the case. Their communication is via the web, and she thinks he's a woman and he thinks she's a man. But Mother Nature… well, she always the score.